Brick, £30. Trainers, £260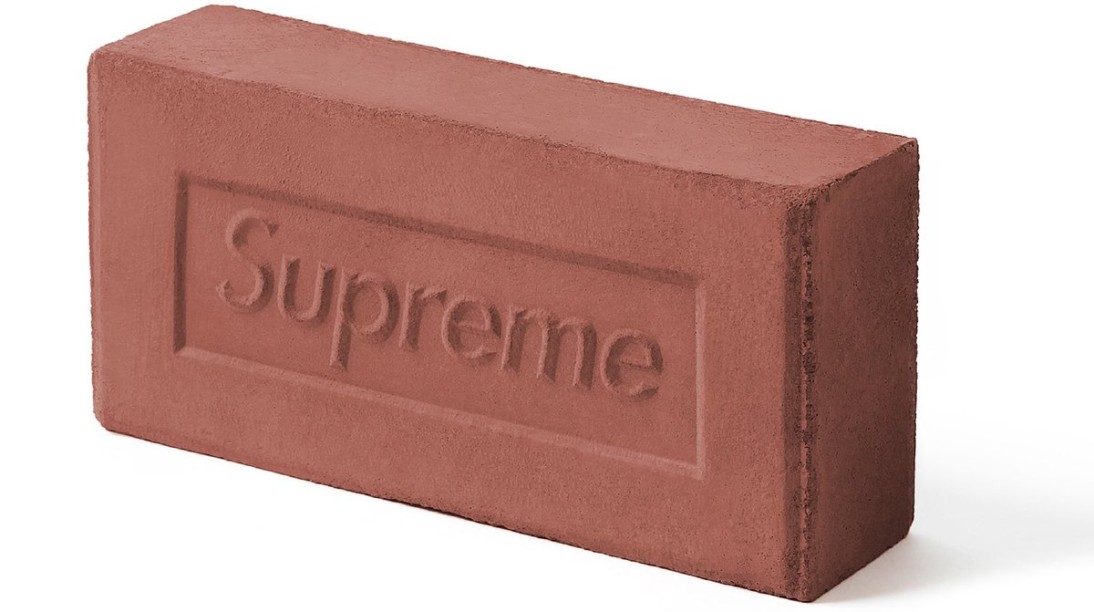 Branding still adds value
When is a brick not just an ordinary brick? When it costs $30. That was the price of a logoed souvenir from New York skate and clothing brand Supreme. But, so the story goes, it sold on eBay for $1,000 soon after.
Usefulness, intrinsic value and necessity would be the criteria you'd use to assess a brick's value. In fact, you can get 500 Dorking Reds from brick maker Ibstock for £420. That's Ibstock, not Reebok.
So what else is available in this genre of awfully expensive things that look like everyday items? Here are some examples with giant price tags – along with their normal versions.
The dizzying effect of these prices is compounded by designers' zeal to produce the perfect, pared-down, minimalist artefact. In doing so, the result is often appears at first glance little different from the chain store.
That they sell for such vertiginous amounts is a testament to smart branding or evidence of a hyper-rich class occupying a different dimension to the rest of us. It's Versace at VersaIlles.
So the lesson here is an age-old one. Adding emotional value, status and sometimes heritage can raise the price significantly. It's something to build on.
Lose your shirt on this T shirt
The Moncler T shirt is in standard grey cotton. It has a small embroidered motif and, priced at £105, is sold out. The untutored eye would detect little difference between it and millions of other grey cotton tops. Moncler's might be made from top quality yarn. The factory might be more ethical, the trims better. They may fit perfectly and not shrink. The colour may be a less crude shade. It may be softer, it may not fade as fast, but there is a limit. Wear and tear will do for expensive and cheap. The washing machine is a great leveller. Here is its high-street cousin, the 833 Police grey T shirt at £12 from Debenhams.
Tracksuit trousers that'll leave you short
What was functional sports equipment or even children's nightwear with very little sartorial credential has crossed over into high fashion. These £500 tracksuit bottoms by Vetements in black were made in collaboration with Champion. The same sports brand is responsible for this item on Amazon for £19.76.
Clothes hanger for a magnate
These careful interpretations of a drycleaner's wire at £21 for 5 are by Scandinavian collective Nomess. Their main selling point is the notches to stop hanging loops sliding off. It takes the brains of a collective to come up with such genius. The company is called Nomess but wire coat hangers are in fact a mess for long term clothes hanging. They were invented for temporary, lightweight and cheap transportation. Hence the price of a normal drycleaner's hanger is 21p.
Backpack for the loaded
This black backpack at £575 by Visvim has a matching black suede bottom but is mostly backpack. Rotten apple and old sandwich pack are extras from a local supplier. You might purr over the materials and beautiful restraint of Visvim's bag, but £30 will buy a functional black sporty backpack by sports brand Nike to keep lunch separate from phone and other non-essentials suitably mixed up.
Trainers for the less common
Opumo, apparently, is a "contemporary lifestyle platform connecting artists, designers, influencers and customers in a personalised and content-rich environment". Its content-rich white trainers by Common Projects are £265.  That's not very common. A white leather skate shoe by Supra in clearance M and M Direct will set you back £19.99. Can you really tell the difference? Both will walk the same streets used by incontinent mastiffs.
Baseball cap to cap it all
The detailing is complex in this £400 Givenchy cap. It's like the top of the range sportscar of hats. But unlike a car, the black Givenchy cap can only be spot cleaned. Rain could be an issue. It's made from several materials so it does have a superior manufacture. You can get the SnapBack equivalent from Amazon at a mere £4.95. That is 80 times cheaper than Givenchy.
Lanyard style
Lanyard, again by Givenchy, at £225, is one of the finest upstarts in the bunch. A lanyard is an embarrassing bit of kit worn for ID at business conferences. It turns a person into a labelled parcel. Givenchy have appropriated it. Their logo is emblazoned on the ribbon, and a heavy clasp and key ring arrangement hangs proudly on the end of the loop. This cringe-inducing necklace is now a fashion accessory. It doesn't seem to have a photo ID though. A lightweight dog lead slung casually round the neck will suffice or you could design your own with Strike Print from £3.95.
Pencils for princes
Caran D'ache graphite pencils from Mr Porter – four for £175 – might rattle someone's artistic cage. The anal-retentive customer should hide them from view just in case the phantom sharpener strikes. One sharpening could set you back several quid. Stanley knives, the preferred sharpening tool of artists, are available from anywhere and a normal box of six Caran graphite pencils in a tin is £16.89 via Amazon.
Fake flowers, real money
Fake blooms are usually made from fine synthetic material or the more upmarket, but less indestructible, silk with bendy wire stems covered in green plastic. The more realistic and tastefully arranged the better, but there's no getting away from the fact they're replicas of the real thing. The shocking price is for a vase of pink peonies with very realistic pollen detail from Lifelike Flowers is £820. A mixture of summer flowers in a glass vase is available from Marks and Spencer for £45.
Get our newsletter for insights into modern comms